Stéphane Zagdoun
Chief Executive | Founder | Partner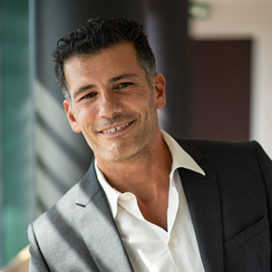 Influenced from a young age by his father, a designer of architectural concepts for chains such as Sandro, Maje, Kookai, Morga, and Iro, Stéphane studied international trade and began his career with Dutch brewer Grolsch as an importer, then became a director in a firm specialising in restaurant fitting.
Course
Like his brother Jimmy, Stéphane was quickly overtaken by the family passion and entrepreneurship, and in January 2002 he co-founded the Richard & Sons family business with his brother. 
Since the firm's founding, Stéphane has lent it his energy, his international expertise, and his sophisticated knowledge of marketing, notably in the areas of catering and sports.
17 years later, the results speak for themselves: Richard & Sons has become the key player in city centre commercial properties and the partner of choice for renowned chains.
Stéphane manages and rolls out the establishment of restaurant chains, be they traditional, fast-food, or a new concept altogether. As such, he directly contributed to creating and setting up more than 90% of the Sushishop premises in France. 
Stéphane also supports institutional or private investors (backers, real estate investment trusts, insurers, family offices) with their investment and management strategies for their property portfolio. 
His open-mindedness and his many trips to foreign countries, where he has immersed himself completely, have allowed him to indulge his curiosity and to stay on the lookout for new ideas and societal trends.
The sporty one
A lover of fitness and combat sports, Stéphane has instilled in himself the mentality of a high-level athlete!